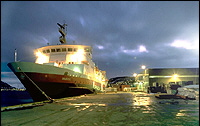 In 1971 the government nationalised the shipping industry, and merged all shipping lines under the Pakistan National Shipping Corporation (PNSC). Later, PNSC went to the public sector also with 90.2% government ownership and 4.9% private sector ownership. PNSC has a fleet of 22 vessels and its subsidiary, the National Tanker Company, owns one tanker.
The Government has issued 35 licenses to private sector companies, but so far only two companies have started up - the Tri-Star Shipping Company with one tanker, and the Millwalla Shipping Company with only one small vessel. Although there are only two companies under the Pakistan national flag in the private sector, a number of companies are operating under flags of their own convenience.
Foreign shipping lines dominate the Pakistan shipping industry. Due to small size and inadequate capacity, the national fleet is presently shipping approximately 10 percent of the regular cargo and 25 percent of the liquid build cargo.